Summary: In this Article, you'll get to read about —
Facebook has provided us with the opportunity to improve our social, personal and professional lives under one roof. From connecting families and friends, catching quick updates of current events, to promoting business and brand online, Facebook offers miraculous advantages to its users. It won't be an exaggeration to mention that FB is addictive and the inability to open Facebook on an app or browser can be traumatic. Mainly, when Facebook is not responding or loading, it can affect your day-to-day communication needs.
Today, we will talk about a very common problem that every Facebook user encountered once in a while and i.e. "Facebook is not Responding". An unresponsive Facebook account can take your power to perform basic activities such as posting, sharing, or commenting. Thus, we researched and came up with some authentic solutions to the "Facebook not opening or responding" issue and teamed them with the reasons that can induce it.
Reasons Why Facebook Not Responding?
Troubleshooting becomes easier when you know the root cause of the issues, otherwise, it feels like shooting an arrow in the dark. After you find the exact reason due to which your Facebook is not responding, you can hit the right spot with more precision and efficacy. Here we are providing the list of most common causes that can trigger certain issues such as "Facebook app not responding", "my Facebook is not responding", and more:
Outdated version of Facebook app.
Inadequate memory or space on Android or iOS devices.
A buildup of cache and cookies on devices such as PC, laptop, or mobile.
Irregular connection or supply of the internet.
Device's Hardware-related issues.
Outdated browser.
Other issues with the browser such as faulty add-ons and extensions.
Troubleshoot Facebook Not Responding on Mobile Devices
The Facebook app for Android and iOS devices are designed to work seamlessly with the respective operating system, but it may freeze at times due to certain irregularities. So, whenever you find that the Facebook app is not responding, you can try a couple of recovery methods to fix the unresponsive Facebook app.
Method 1: Update the Facebook Application
This is the first and the foremost way to get rid of frozen or unresponsive Facebook apps. Facebook rolls in a new update at regular intervals and missing it can cost you a lot by affecting the normal loading speed of your Facebook app. When a new version is on-board, the older ones may start to crash and this will keep you from accessing your Facebook app on Android and iOS devices.
To update the Facebook app, all you need is to visit the Play Store or App Store on your device and click on the "Update" button. FYI, the "Update" option will only be enabled if there is a new version of the app available for you.
Method 2: Fix Mobile Storage Issues
The Facebook app requires enough space and resources to run properly on your device and insufficient space will cause crashing and freezing of the Facebook application. Thus, to resolve this, you need to clear some space on your mobile device if it is less than 100 MB. You can consider deleting unused apps, images, videos, and other similar stuff to give the Facebook app the space it requires.
Also, clearing cache on your mobile can spare some space that can be used for a better purpose. You can use an in-built cleaner to remove cache files, obsolete files, packages, and residuals from your mobile device.
Method 3: Fix Internet Connection Issues
Facebook only works in the presence of a proper internet connection and if your Facebook feed is not loading, Facebook is not responding, or the FB app is crashing, you need to be sure that it is not happening due to poor or no internet supply. Therefore, if there is a network outage in your area or the signal is relatively weak, you can try using a different Wi-Fi connection or use cellular data.
Other than this, you can try restarting your router and modem, and connect to the Wi-Fi again. If nothing is helping, you contact your Internet Service Provider.
Method 4: Log-Out and Log-in Again
Signing out and signing in again has always been the most trusted solution to every technical issue that occurs with the Facebook app. So, you must try this when you find Facebook is not responding or the FB feed is not loading at all.
To log out on the mobile app of Facebook, click on the three=horizontal line from the top-right corner of the screen and click on "Log-out", this will take you out of your account and you can sign in with your FB username and password again.
Method 5: Upgrade Your Android and iOS System
Same as the app updates, your device needs updates too, because it consists of various bug fixes, improvements, and new features. Therefore, if the Facebook app is not working along with other apps installed on your device, you can try to update your mobile's operating system.
Mobile updates are usually found by following this series:
Settings>> About Phone >> System Update
Troubleshoot Facebook Not Responding on a Desktop Browser
Facebook is not loading or responding on desktop browsers like Google Chrome, Mozilla Firefox, Opera, Safari can be frustrating and stressful. However, there might be several scenarios that trigger the issue such as slow internet connection, caches of the browser, and more. Here are some of the troubleshooting ways that would probably wipe out the Facebook not responding issue.
Method 1: Use Different Browser
This might be the basic thing to do but it works in most cases. Suppose you are using Google Chrome as a default browser, there might be chances that Chrome is having issues and hampering your Facebook experience. Hence, try to move to a different browser like Microsoft Edge or Mozilla Firefox, or any other browser to access if Facebook is not opening on Chrome.
Method 2: Clear Cache
Try to clear the cache of your browser in the first place. The cache might slow down the browser performance and hence Facebook not responding might be the result of it. Follow the underneath steps to clear the cache from the Chrome browser.
Go to the Chrome settings by typing the chrome://settings in the bar or you can move your cursor to the upper right corner of the screen.
From there search the Cache and click on the "Clear browsing data"
From the pop-up menu check all the tabs and make sure to check the Cookies and other site data. Now click on the clear data option.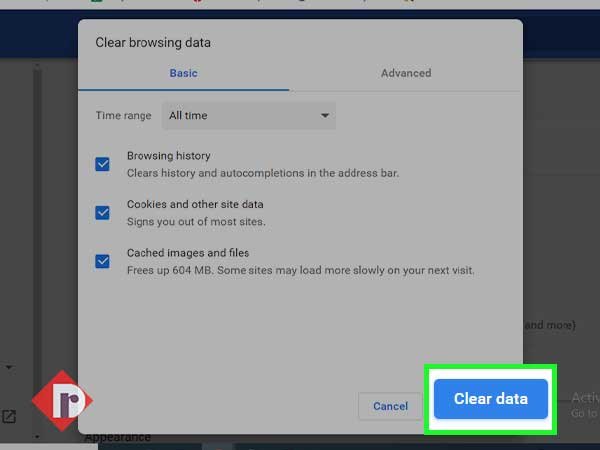 The process will take a few seconds to clear the history and cache of the browser once it is finished, restart the browser and use Facebook.
Method 3: Update Browser
The outdated browser can cause issues and Facebook not responding might be the result of it. Hence, try to check the version of your browser and if it's not updated, update it immediately. Facebook only works better with the latest version of browsers.
To install an updated version of your browser, you just need to delete the current version you are using and then download and install the latest version of it from its official website using a different browser.
Method 4: Reset Browser
If nothing works try to reset the browser, resetting the browser will clear everything such as cache, history, saved passwords, bookmarks, and installed extensions. Follow the underneath steps to reset the browser in Google chrome.
Move to Chrome Settings and go to the bottom of the page. Now click on the "Advanced" drop-down.
Go to the advanced options and click on the "Restore settings" to enable their original "defaults" option. This step might not work for Chrome.
From the Reset settings window, click on the "Reset settings and clean up" button
Google Chrome will take a few moments to reset. Now check if it works out for you if not try to flush DNS tables or get help from the Facebook community help page.
Conclusion
Implementing these solutions will bring your unresponsive Facebook account to its normal state. But, if nothing is working out, you should wait for a day or two as sometimes it's Facebook that is at fault and you don't need to do anything. So, wait and see if the problem vanishes on its own; sometimes it helps.