Summary: In this Article, you'll get to read about —
Facebook is one of the most popular social media platforms worldwide and has over a billion daily users. That makes it more difficult for individuals and businesses to stand out among other accounts and attract visitors to their page. Your Facebook cover and avatar are the first things a potential follower pays attention to when visiting your page. A stylish Facebook cover, complying with all the size requirements and design rules, can help build up a better impression of you or your brand if you approach it wisely.
A creative idea is making your cover in a collage style. It can either be a minimalistic grid collage or a trendy jumble collage – your choice. Either way, we will show you 3 fast and easy ways to create your Facebook collage cover.
Make Your Facebook Cover in BeFunky
BeFunky is a free online photo editor famous for its library of templates and embellishments. It's an excellent collage maker as well. Thanks to its user-friendly interface, endless collection of stock images, and built-in templates for Facebook collages, you can make a stylish cover in no time.
Just go to the BeFunky website, hit Get Started, click Create a Collage, and switch to the Layouts tab to pick the Facebook cover preset you like best. Import your own photos or use stock images, add cliparts and captions if needed, and your cover will be ready to go.
Most Facebook cover templates are available only with a BeFunky Plus subscription. However, if you do not mind that and have a stable Internet connection, BeFunky is a suitable option for you.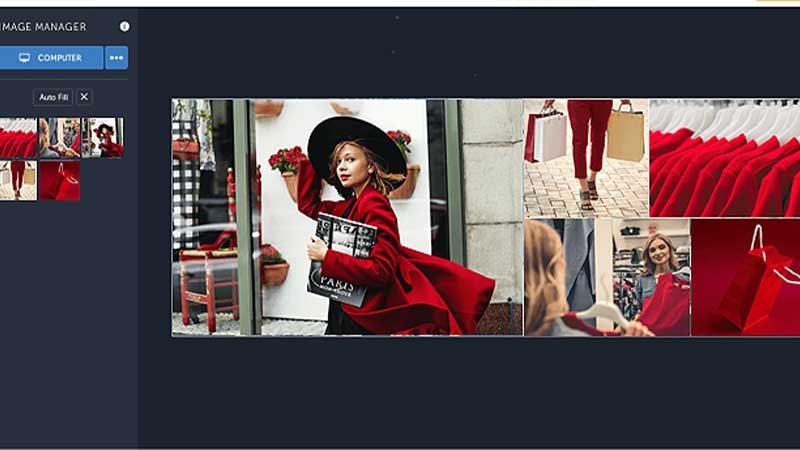 Design a Cover in Photo Collage Maker
Want an editor you can count on even when the Internet is out. Meet Photo Collage Maker. This program is feature-packed and easy at the same time. Besides, it has 450+ pre-made templates for creating grid collages in under 5 minutes. So whether you have experience in making collages or not, you will feel comfortable using this software.
All you have to do for a perfect Facebook collage cover is run the software, click Create New Project, pick a collage template, type in the Facebook cover size (820×312 pixels), and import your photos.
Then, decorate your collage with built-in cliparts, switch the background, or add captions if you like. Save your cover as a PNG to preserve the quality of embellishments and upload it to your Facebook page. Done!
Create a Cover for Your Page on the Go
Prefer to use every minute of your time efficiently? Design your Facebook cover on the go in a handy smartphone app called PicCollage. The developers constantly refresh the collection of collage templates with new designs. Thus, you will surely end up with a stylish Facebook cover if you go with this app.
Here are the steps you have to follow to make a Facebook cover with PicCollage. Open the app and tap Select Photos to upload pictures from your smartphone or Facebook library. Go to the Layout tab, tap Sizes, and apply the 16:9 ratio. Choose the grid you like best and pull the sliders to adjust the borders. Complete your cover design with stickers and captions.
The application is available both to iOS and Android users, but you will need to spend additional money on exclusive graphic elements and templates.
Conclusion
These were the 3 ways you can make an outstanding Facebook collage cover for your profile, whether for business or personal use. All the editors above are intuitive and have diverse artistic elements, giving your creative freedom in your designing process. Have a look at a step-by-step tutorial on how to create a collage for Facebook if you want to check out more ways and dive into deeper detail.
Next, can read: Know Why Facebook is Not Responding and What Are the Solutions