Summary: In this Article, you'll get to read about —
Recently, Fishbrain Stockholm-based app, in Sweden has brought in $31M funding from multiple investors. The financiers of the online fishing app included Consensus Smbolagsfond and Adrigo Asset Management. Besides, the current shareholders are also included such as B Capital Group and SoftBank Ventures Asia.
This funding will be used to increase the user base, and make its strong goodwill in Sweden and Norway. Furthermore, the other target would be to strengthen Fishbrain's marketing and sales department at the production hub in Stockholm. The hiring process will also be the other major investment department of the funding in the USA and all over Europe.
Let's have a look at some of its investors' profiles and the amount of funding done by them to Fishbrain:
Adrigo Asset Management is a fund management company headquartered in Sweden. It invested $31M (series C funding)in Fishbrain on March 25, 2021.
B Capital Group, initiated in partnership with The Boston Consulting Group, invests in those companies which have a clear specific goal and whose growth rate is higher or expected to rise soon.
B Capital Group gives escalated growth to the company being invested and furthermore, brings in reputed entrepreneurs to improve innovation, productivity, revenue and thus contributing to the company's success. The company revealed funding of $13.5 million to Fishbrain in series B funding. SoftBank Ventures Korea and other related investors in the zone also participated in the funding.
History
Fishbrain is an online fishing application that was launched by Jens Persson and Johan Attby in 2010. The app is specifically made to aid anglers in terms of choosing the correct fishing tools, insights, timings, locations, and much more related to fishing activity.
Through this app, the user can be able to find many new fishing spots which nobody may have listened to before. You will be glad to know that the application has gained such eminent fame that it crossed 14 million verified users all over the world.
| | |
| --- | --- |
| The introduction Year | 2010 |
| Location | Stockholm, Sweden |
| Company Stage | Series C |
| Total Funding | $59.8M |
| Last Funding Round | $1.01M, Series C, June 28, 2022, |
Features
Fishbrain app has numerous features which have special roles to play. While using Fishbrain, you will get
More Than 13 Million Catch Locations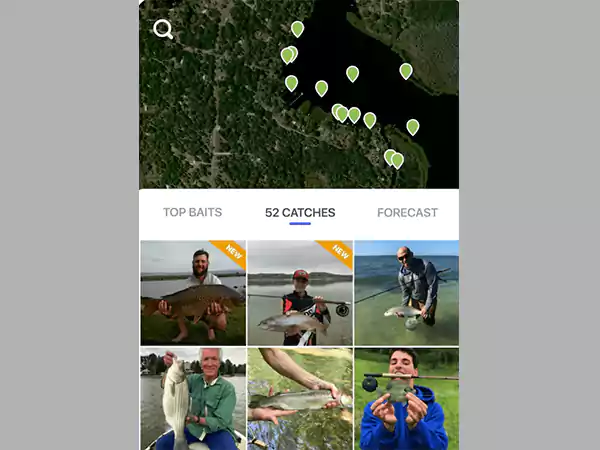 You will discover several catch locations for fishing through this feature. Out of many available, you can filter any location by species, water bodies, or any other such related foundation. You can target one week, month, or a particular season at a point in time to improve your fishing skills from the basics.
Informative And In-Depth Maps
Informative and well-researched maps will guide you on the right path for fishing which is clearly based on the structure of the water body and water level. The maps are of great help to anglers because some particular species are found in particular depths only.
Humans may not know the reality regarding some particular species' behavior, habitat, and much more. To eliminate this issue, depth maps help by giving insights about the type of species you are looking for.
Also Read: How Gather Raises $50M in Series B Funding?
Fishing Spots Available in the Maps
Fishing spots are essential to locate during fishing. One who is unaware of the correct fishing spots won't be able to achieve his/her target easily. Chances may be there that you are standing at the wrong place for a quite long time and still can't catch any fish.
Depth maps help at such times by locating the fishing spots during fishing. But, you are supposed to thoroughly analyze the map, the area, and any depth changes that occurred before.
To conclude this with an example, let's talk about streams that are converted into a big lake after a certain point in time. This point may be an area where the concentration of fish is high. You might get an opportunity to find a fish of good quality.
Option of Putting Down Your Waypoints In the Map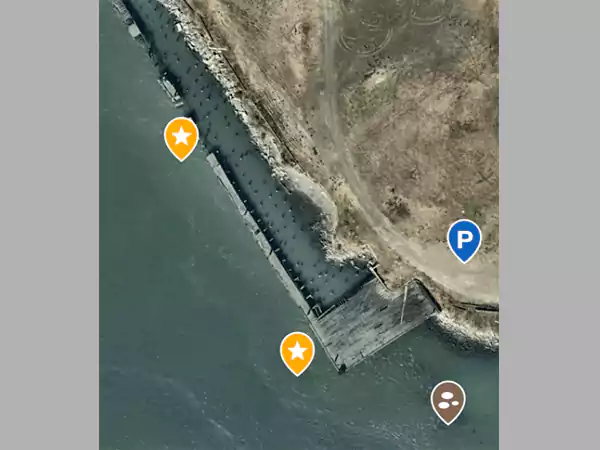 You may have been out to fish and found a lot of points on the way which you think should be remembered for the future. To memorize many such useful points in the water may seem a tedious job.
After all, how many such points can you remember exactly after you are done with the activity? Barely one or two roughly.
You will be surprised to know that you can pin any point in the Fishbrain app easily by pressing for a long time on the map anywhere. It will mark the exact same location for future purposes without any slight alteration. Now, if you capture anything during fishing, such as a great honey hole, you may save its location easily by using this amazing feature.
Fishing Weather Forecast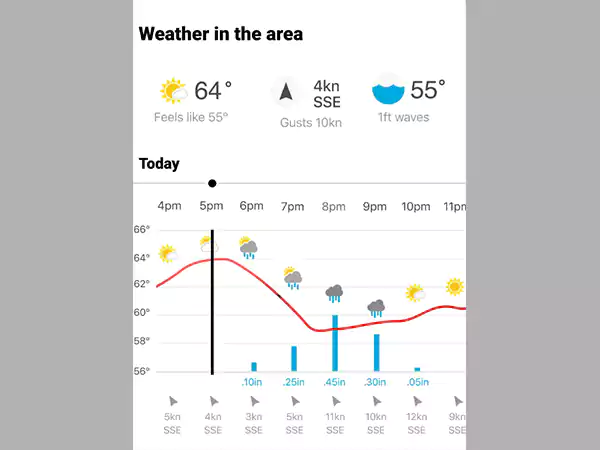 Generally speaking, a bright sunny day is perfect to go out fishing while a day full of strong winds, storms, or heavy rain will be unfavorable to fishing. To forecast fishing weather well before a day, a week, or any other specific tenure, Fishbrain Pro has an amazing built-in feature that permits you to look in advance at the best time to fish.
You can forecast according to hourly intervals or any particular time of the day. Whether you want to enjoy your lunch near a lake or have a get-together with friends and family, just have a look at the best hours you love to spend and come out with your needed tools to enjoy fishing.
Solunar Forecast
You can do solunar forecasting. This feature includes a prediction of sun and moon phases and how they impact tides. This feature is available in Fishbrain Pro which helps you decide an accurate time to fish for particular species.
Fishing Logbook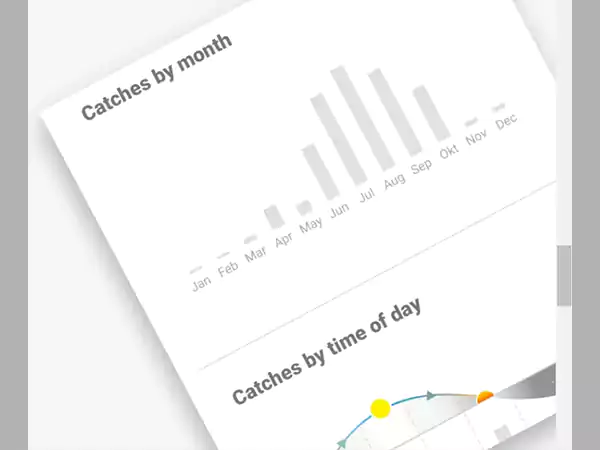 A fishing logbook is nothing but an online tracking system or an e-diary in the Fishbrain app. It keeps a track of everything related to your fishing activities from what you caught when you did it and what was the actual place. This tracker acts like a systematic pattern that keeps a record of every fishing you do and thus helps you improve your skill. Below is the list of data you can track with every record:
Species
Size
Date and time
Location
Water structure
Type of Gear
Weather data
Fishbrain Free Vs Fishbrain Pro
The basic difference between the two is that the former is free while the latter is paid. Though Fishbrain free is very useful but limited as compared to its pro version in terms of the functionalities which enhance the user experience from good to better.
Features available in Fishbrain (Free)
Fishbrain free version allows you to view:
A variety of fishing spots.
your statistics.
weather forecast with a limited fishing forecast. This is available for only one type of fish per area.
private groups. You can also join any of them.
reviews given by others.
Features Available in Fishbrain (Pro)
With (pro), apart from the functions which are included in the free version, you will get:
others' catch statistics.
accurate catch positions.
informative maps and private waypoints.
an option to not just participate alone but can create private groups as well.
attractive offers and free shipping on orders above $10.
Fishing Pro Price
Let's see the pricing plan of the pro version:
1 month: $9.99
3 months: $24.99 ($8.33per month)
12 months: $74.99 ($6.25 per month)
Final Words
You could have observed how beautifully technology has eased such a complex task of fishing in a few simple steps. The various parameters related to the sport of fishing can be easily known to you with the help of the Fishbrain app.
When you are not sure of the correct ways, the concentration of the type of fish you are looking for, and much more, the Fishbrain app comes in as a one-stop solution for you. You can enjoy your favorite sport of fishing without any disturbance as the Fishbrain app becomes your ultimate guide to every query. Additionally, funding of 31M to Fishbrain by different FinSMEs will further expand its profits ahead which will help it grow more in the future.