Summary: In this Article, you'll get to read about —
Do you want to be able to keep track of what your child is doing on their Android phone? Are you worried that they might be getting into trouble and you need a way to find out what is going on? If so, then a free keylogger for Android phones might be the answer for you.
A free hidden keylogger for Android phones can be used as a way of monitoring your kids' activities on mobile devices without them knowing it.
With this app, you can monitor your child's phone activity to see what they are doing online. You will know when a website has been visited and how much time was spent on each site as well as other important information about their digital lives.
Imagine the perfect keylogger for Android phones. This app can help you monitor everything that happens on your phone, including what websites are being visited and whom text messages were sent/received.
What is an Android Keylogger?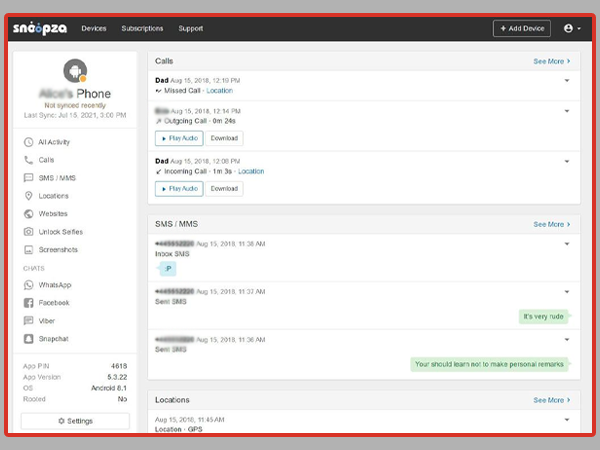 There are certain apps on your phone that you don't know about. One of them may be a keylogger – this allows the developer, or any other person with access to it (such as an employer), to see everything happening in real-time through text messages and websites visited by users who think they're alone when their activity is being monitored.
So you want to know what a keylogger is for Android phones, huh? Well, it's an app that monitors everything your phone does and stores the information in some type of database. You can then review this log after secure communication with someone else who also has access to it which will let us see where they were browsing or sending messages from.
If you want to keep your personal and professional life separate, then a free Keylogger app for Android is the way to go.
Snoopza has been proven time after again as one of those top options available on the official website.
With Snoopza, you can get real-time information about what's happening on your phone.
You'll be able to see everything from keystrokes and website visits in an intuitive interface that is easy for anyone who knows how to use it.
Keeping tabs on what your child does online is a tricky task.
Fortunately, Snoopza provides an easy way to monitor their activities and make sure that they aren't getting into any trouble.
It's also very discreet so you'll never have to worry about them knowing we're watching over him or her- plus with all the features available it will take less time than trying to figure out how else to accomplish this goal."
How does Snoopza Android Keylogger Work?
Snoopza is the perfect app for parents who want to be able to see what their kids are up to without them knowing.
The installation process requires access rights from your child's phone, which means that once it has been installed you will always know where they've gone and can monitor every move – even if there isn't any suspicious activity happening.
The peace of mind that comes with knowing what your kids are up to can be invaluable.
You'll receive alerts whenever they visit certain websites or search for keywords, which gives you access to their digital life without having any knowledge about how best to use it yourself.
Do I Need Any Special Knowledge to Install and Use the Android Keylogger?
The Snoopza Android keylogger is a simple and easy-to-install app that can be used on any device. With just one download, you'll have the power to monitor everything happening with your phone without having special knowledge or tools required.
To install the Snoopza application on your device, follow these simple steps.
1. First, go to their official website www.Snoopza.com
2. Sign up for an account
3. Download it from there using one of two available methods – "Download" or "APK" file format depending upon what type is more convenient for you in terms of storage space considerations as well as the ease with which they can be installed onto different types/brands associated devices such as smartphones tablets laptops, etc.
4. Install it using the setup wizard and launch the application on your device.
5. After installing finish setting everything up by clicking through various tabs within its user interface.
Monitoring your device from anywhere has never been easier. Now you can do it with just the click of a button.
Can I Be Traced Back If I Install the Keylogger on Some Other Phone?
You can monitor:
| | |
| --- | --- |
| – SMS and MMS messages | – WhatsApp, Viber, Skype, Facebook, Telegram chats |
| – Calls | – Browsing history and bookmarks |
| – GPS location | – Photos and videos stored on the device |
Snoopza is the only app you need to keep your information safe.
We recommend that our users do not use free keyloggers for Android from unknown developers as they may contain malware, but instead trust us with their mobile devices and opt-out of having any tracking done whatsoever by simply clicking Cancel when prompted.
I Don't Have Physical Access to the Target Phone. Can I Still Use Snoopza?
Snoopza has been a popular app for quite some time now and it's not going anywhere any soon. Once installed, launch the application on your device from anywhere via an internet connection – you'll be able to monitor everything that goes in or out of range.
Snoopza is a free keylogger for Android that will allow you to monitor your phone without any risk or worries. The app has been designed with safety in mind, so it's safe and easy to use.
How Safe is It to Use a Snoopza Keylogger?
Keyloggers are software that records what you type on your computer without permission.
They can be very useful, but also dangerous if used incorrectly or for improper purposes because they will allow others access to personal information like passwords and emails which may lead them into other private data sources protected by security measures such as encryption keys – this is where things get tricky.
It all depends on who's using the keystroke tracker: some people have no problem with installing something extra onto their device while others would rather not risk getting hacked themselves so long-term use might vary depending upon preference.
Keyloggers are programs that record everything you type on your computer without permission. It's against the law for someone else to install this kind of spyware because it can be considered electronic surveillance and an illegal intrusion into another person's privacy–even if they have given their consent beforehand.
It's against the law for someone else to put spy apps onto another person's device without their knowledge, which makes this kind of technology illegal in many countries across Europe and the Asia Pacific including India where it can carry up to 20 years worth of prison time.
Keylogger apps are tools that can be used without even touching a computer.
They may aim it at your keyboard and you will never see coming, but these keystroke trackers don't have to stay put- they work just as well when planted inside an object like furniture or electronics so long as there's access to electricity.
What if you could be targeted without even touching your computer?
A keylogger is an ingenious tool that can perform this feat.
You will never see it coming, as they may use their skills like a silencer and aim the device at the keyboard from afar – protecting themselves against potential hacking attempts while also remaining undetected.
It is a serious offense to use keyloggers at work.
Law firms should never have employees install these devices on company computers, as it will allow them access only for login purposes and not private accounts or email correspondence- which could be unauthorized usage of such personal information in some cases.
Pricing Policy
Snoopza offers a free version and paid versions. In the Free package, users have access to limited features while in Paid packages additional spy functionality is available for those who need it most.
We're going to take a look at the differences between two different plans for spy apps.
The first one is called "basic" and it has all of your basic needs covered – text messages read back to you in real-time with date/time information hidden from view by default on phone screens (needs unlock), recording conversations up until 20 seconds before they happen so there's no need worry about missing anything important.
For those who want their investigations handled professionally though…the standard plan offers more options than what was just described above but also comes at an increased price tag ($14 per month).
| | | | |
| --- | --- | --- | --- |
| Plan | Basic Plan | Standard | Professional |
| 1 Month | Free | $14.95 | $29.95 |
| 3 Months | Free | $34.95 | $49.95 |
| 1 Year | Free | $99.95 | $99.95 |
Basic Plan
With the new features, you can view your messages and calls. You'll also be able to track where a particular conversation took place so it did not happen again.
Standard Plan
There's a one-time purchase fee of $14.95 for the service, plus an annual subscription cost of $8.32 or $99.95 per year.
Let's see what the standard plan has in store for us. You'll be able to track all of your messages, calls, and social media activity.
But wait – there are more platforms than just WhatsApp; you can also monitor various applications on this list too like Facebook Messenger or SMS texting apps such as WeChatlite (Weixin), Viber, etc.
So make sure not to get caught off guard when using any one platform without knowing about its existence beforehand by checking with an expert who knows everything there i.
The best part? It comes at a low price promo rate which makes it an easy decision from my end considering how much value I'm getting out of it.
Conclusions and results
Snoopza is a free keylogger app for Android that lets you monitor your phone and track activity.
The paid version offers more features, but the basic option still gives users all they need to know about what's going on with their devices – making it worth checking out whether or not someone plans on paying.
If you're looking for an app that will help with your theft recovery, Snoopza might be a perfect choice. It has many features and follows industry standards in terms of privacy protection so users can feel safe.
When they use it without worrying about any leaks or data being compromised remotely by third parties who could want access just because it's free software.
So the Snoopza app is a good choice for monitoring your keystrokes.
It has many features and the free version offers enough functionality to monitor activity without paying anything extra, though if you want more advanced options there are upgrade plans available as well.
---