Summary: In this Article, you'll get to read about —
These days looking out for the spam score of your own website is not just important for business owners and webmasters; it's also important for online content creators, bloggers, media-savvy online businesses, and especially digital marketers. It helps them understand the trustworthiness of their own website. The spam score is a system developed by software and SEO data company MOZ. It helps figure out how spammy a website is and, at the same time, how trustworthy it is. Through spam score, a website is graded on a scale of 0 to 17, where a grade of 0 means the most trustworthy, and getting a grade of 17 means the least trustworthy.
A spam score will also help you understand the trustworthiness of the sites whom you are thinking about collaborating or working with. You can easily check the spam score of a site before pursuing backlinks actively via partnership and outreach initiatives. A spammy website can affect the backlink portfolio of your site, as well as can get your organic visibility penalized algorithmically by Google or other search engines. You wouldn't want such spammy websites linking to your business, and you wouldn't want your work to be associated with them either. It could give you a bad reputation, especially in the eyes of future collaborators. Your organic search ranking can get negatively affected as well.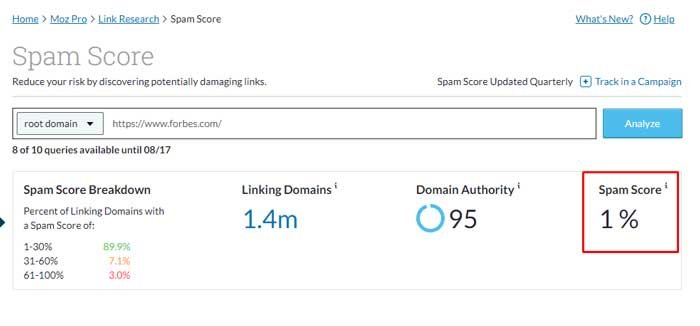 What Spam Score Indicates About Your Website
You should know that spam score is not really a perfect science, like most other things in the SEO world. However, it will indicate pretty well how much you can trust a website. You can judge the score easily due to the color-coded system of the scores. Sites that score between 0 to 4 are marked green, which means sites with good spam scores. If the score is between 5 to 7, the color will turn orange, which means medium risk. The ones that will score above 8 are marked red, and it means a high alert and high spam score may hurt your website and business.
However, not all the sites are actually spammy or bad sites that get marked down as orange or even red. Those sites are simply unfortunate victims of circumstances. But these websites should be treated with initial suspicion nevertheless and must be examined in a detailed manner.
Now let's get to know how you can check the spam score for your site.
How You Can Check the Spam Score of Your Website
It's easy to find out the spam score for a website. For doing so, you will just need to input the URL of your website into Moz's Open Site Explorer. Then it will generate a mini report about the spam score of your website immediately. This report will tell you about other metrics, including inbound links and the authority of the page or domain. However, here we will only focus on the spam score only.
Just putting the URL of your website in that site explorer will show you results about your spam score within no time. Apart from the overall spam score for your website or the spam score for the homepage of your site, you can also get individual scores for any of the pages that you have on your website. While finding out the spam score, it might occur that one of the pages of your site is problematic, which is located deeper in the architecture of the site. In that case, the open site explorer will allow you to pinpoint the problem areas manually in your site.
However, you will only be allowed to conduct a small number of checks on the Open Site Explorer per day unless you have a premium or paid-up account of Moz. If you have that kind of account, you will have unlimited access. If you want to use it properly without paying for the subscription, you can go for their free trial of 30 days and figure out the things you need to do quickly.
What Does It Mean to Have No Spam Score Data Available for Your Site?
Since the Moz crawler hasn't yet managed to crawl all the sites available on the internet, it might happen that your website hasn't yet been indexed by Moz. In that case, your site won't have a spam score assigned to it. This only happens to comparatively new or obscure sites. You can try to ensure that your site is discovered and indexed by the Moz crawler by acquiring backlinks from sites that are already in the index of Moz. It will provide the Moz crawler essentially with a shortcut to your website.
Things That Cause Spam Score on a Website
There are certain problems or anomalies that can cause a high spam score for your website. When the Moz crawler finds these problems on your website, the spam score for your site will increase, and it will be dubbed as a spammy or untrustworthy website. In that case, you will need to try and reduce the spam score of your site.
Here are the things that can cause a high spam score for your site-
Low MozRank or MozTrust Score
Low Site Link Diversity
Big Site with a Few Links
An imbalance between Followed and No-followed Links
Imbalance in the percentage between followed and no-followed domains
Small Amount of Branded Links on the site
Abnormally Small Site-Markup
Having External Links in a Large Number
The Content of the site being too thin
Anchor Text Heavy Page
Having Internal Links in a Low Number
Having External Links in Navigation
Having No Contact Information on the Site
The number of Pages found being low
Length of Domain
Top Level Domain is Correlated with Spam Domains
Domain Length being too long
A domain name containing numerals
When your site will have these problems, it will get a higher spam score from the open site explorer. Then you will need to try and take care of these problems to get a better and reduced spam score.
Final Words
These days the spam score has become one of the most important performance indicators when it comes to the SEO industry. If you keep having good SEO practices and keep your site updated and optimized for SEO, the spam score of the site won't be much of a problem for you. Also, this score won't be much problematic either usually until your site gets quite a large score. If this happens, it means your website is riddled with various problems, and you need to take care of them as soon as possible. Otherwise, it will perform poorly regarding key performance indicators of SEO such as organic traffic, conversions, etc. So, keeping a check on the spam score of your site will help you understand the state of your website.
Also, Read: Know the Benefits Your Digital Agency Can Get by Partnering with White Label SEO Experts
---